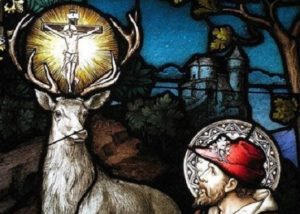 An important aspect of our Catholic faith is the integration of every aspect of life into our relationship with God. For that reason we have patron saints for every occupation and circumstance. Even beer makers have patrons, such as St. Nicholas. Another surprise for many people is that hunters have a patron saint – St. Hubert of Liege.
Since Father Pacwa has developed a love of hunting and feels call to educate people about Saint Hubert's life better, seek his intercession, particularly for hunters, and to help various Catholic hunters get to know and support each other, Kings Servants, LLC wanted to help him spread that message through social media.
CLICK HERE to visit Saint Hubert Lodge website for prayers and more information.